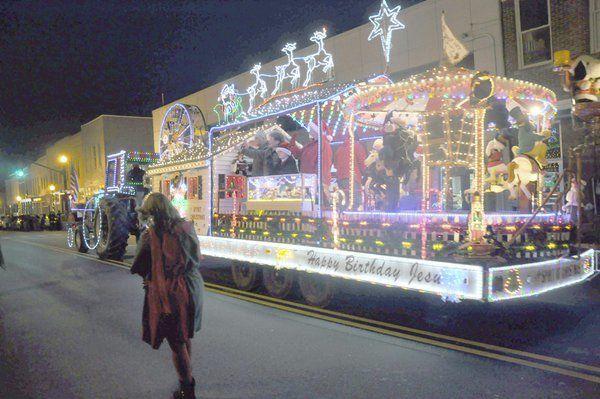 Sure, we aren't quite to Thanksgiving yet. But why not start thinking about Christmas early?
This year's edition of "Christmas on the Square" and the Somerset-Pulaski County Chamber of Commerce Christmas Parade will take place on Saturday, December 1 in downtown Somerset.
This year's theme is "Walking in a Winter Wonderland," and that's sure to be what locals will do as they tread the streets of town, taking in everything planned by the "Christmas on the Square" committee.
"There are a lot of logistics that go into the Christmas Parade and a whole day of this magnitude," said Chamber Executive Director Bobby Clue. "Last year, we estimated somewhere between 5,000 and 6,000 people downtown."
It takes the task of bringing together various organizations like city and county governments, the Downtown Somerset Development Corporation, Somerset Police, local businesses and others to choose a theme each year and make the kick-off to the holiday season in Pulaski County a reality.
"We're running full-steam ahead, trying to promote and aggressively market this event to everybody," said Clue. "We don't have a lot of time
"For us, it's about putting a really nice product out there for these children," he added. "Like it or not, for some children, this might be the only positive experience they have this Christmas. We want to make sure to give them a really great experience, a memory that they can hang on to."
Though the Christmas Parade is always the main attraction, and will start at 5 p.m.; at Meece Middle School as per usual, "there are lots of things going on beforehand," said Clue. At 1 p.m., downtown comes alive with the spirit of the holiday as Somerset 106 Radio hosts a "Christmas Village" at the judicial center plaza that will last until time for the parade. None other than Santa Claus himself will be there from 3 p.m. until 5 p.m., taking free pictures with all children, before he has to make his way over to the parade where he will be, as always, the featured guest.
Another popular activity, the Children's Christmas Book Walk, will involve several local organizations, as parents can bring their young ones to different stops around town throughout the day to be read a favorite Christmas story in most entertaining fashion. Greg Ousley's law office will be open at 3 p.m. for the Book Walk, Citizens National Bank at 3:20 p.m., the Carnegie Community Arts Center at 3:40 p.m., Cumberland Security Bank at 4:20 p.m., and First & Farmers National Bank at 4:40 p.m., while the Shine House on North Main Street will take anyone who wants to hear a story between 4 p.m. and 5 p.m. This event is organized with the help of the Pulaski County Public Library.
Also, there will be a downtown storefront decoration contest to get the community involved before the big parade begins. Immediately following the parade, which ends at the judicial center parking lot -- after going down East Mt. Vernon Street, turning north onto College Street, then west on East Oak Street, and finally south down North Main Street -- the annual tree lighting ceremony will take place on the Fountain Square, with music by Brynlee Dugger and Abbey Burns, and the ceremonial swicth-flipping by Somerset Mayor Eddie Girdler and Pulaski Judge-Executive Steve Kelley.
For more information, call 606-679-7323.
https://ift.tt/2PUxbHl