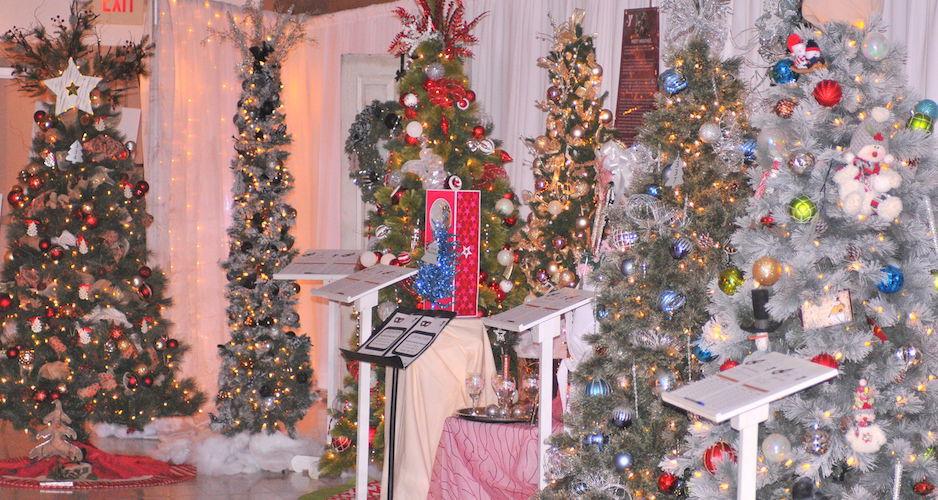 Christmas is just around the corner, and there's no better way to get into the spirit than visiting the Festival of Trees.
The Defiance Area YMCA's Festival of Trees will be held Nov. 13-17 at the Defiance Eagles Aerie 372, 711 W. Second St. The annual event benefits the YMCA, and funds raised help provide membership assistance and programs to those in need. The State Bank is the presenting sponsor for this year's festival.
Tina Draine, marketing communications director for the Defiance Area YMCA, said that each year the event draws thousands of people. The festival features 40-50 trees, not to mention holiday wreaths, in a kaleidoscope of colors and themes to delight all ages. Complimentary coffee and cocoa are provided at special events, thanks to Biggby Coffee.
Each day of the festival will feature events and entertainment to allow the public to have fun while looking at the winter wonderland inside the Eagles hall.
In addition to the events and trees, the North Pole Boutique, sponsored by Citizens National Bank, will be open featuring unique and specialty gifts.
"We have new sponsors this year," Draine said of the festival. "We also adjusted some times on events, because they were getting so large."
The senior luncheon and Cocoa with Santa times were lengthened.
For the luncheon, there will be two shifts to allow seniors to pick when to attend.
Both the luncheon and cocoa events require registration and have sold out in the past.
"We hate turning people away," Draine said. "That's another reason we extended the times. We've always made do and haven't had to turn too many people away, but we don't want it to be crazy (at events)."
The festival will kick off with the tree-lighting ceremony, sponsored by Interim Healthcare. The ceremony will be from 5:30-8 p.m. Nov. 13.
Admission is a freewill offering.
The ceremony will feature musical performances by several area choirs including Defiance Elementary Fifth-Grade Choir, Defiance High School Varsity Blues, Defiance Middle School Generation Music, Holy Cross Catholic School and St. John Lutheran School.
On Nov. 14, events will start with the Keith Hubbard Business Luncheon from 11:30 a.m.-1 p.m. The annual luncheon is sponsored by the Hubbard Co. and Mercy Health Defiance Clinic and ProMedica Defiance Regional Hospital. The guest speaker is Kyle Brownlee, founder and lead pastor of Xperience Church.
Reservations are required as seats are $25 each. Reservations may be made by calling 419-784-4747.
Later that night will be A Night in Bethlehem from 6:30-8:30 p.m. Admission is a freewill offering. The evening will feature a performance by pop country music artist Bekah Bradley. A Night in Bethlehem is sponsored by Brookview Healthcare center, The Gardens of Paulding and Xperience Church.
The festival will be packed with events on Nov. 15.
The senior luncheon will be held from 10:30 a.m.-1:45 p.m.
Reservations are required by calling Laurels of Defiance at 419-782-7879. Admission is $5 per person or a bag of groceries. Event sponsors are Laurels of Defiance and Schaffer Funeral Home.
Business after hours, sponsored by the Rotary Club of Defiance, will take place from 5-7:30 p.m. Nov. 15. Admission is free during the event.
Ladies Night will close out the night from 5:30-8 p.m. Reservations are required for the event, which costs $25 per person. Sponsors include Northwest Real Estate Services LLC and Midwest Community Federal Credit Union.
The gala and live auction will be held Nov. 16. This year's gala event's theme is "Shake, Rattle and Roll" featuring 1950s style items. The gala and live auction will be from 5:30-11 p.m. Reservations are required, and cost is $60 per person. To make a reservation, call 419-784-4747.
The gala is sponsored by First Federal Bank. Dueling pianos will be performing throughout the event, thanks to sponsors Estle Chevrolet-Cadillac, Keller Logistics Group and Shultz Huber & Associates.
Draine said that the live auction will feature several great items, and those interested in donating auction items may still do so by contacting the YMCA.
"One of the packages we're doing is an ultimate birthday bash," she said. "It's going to be for a child's birthday."
The live auction package will feature Putt-Putt golf, go-cart racing and laser tag for 10 people at Putt-Putt Golf & Games in Defiance; and two large, one-topping pizzas and a large ice cream cake from Cold Stone Creamery.
That's just a sample of many items festival goers can bid on Nov. 16.
The last day of the festival, Nov. 17, is packed with events for both the young and old.
From 9 a.m.-noon, cocoa with Santa will be held. Cost is $10 per child and a reservation is required. Participants will have cocoa with Santa, get a photo, take part in crafts, receive a gift and more. Sponsors are Defiance Dental Group, Defiance Police Officers' Association and Mark Moats Ford.
It's time for a "Very Merry Unbirthday Party" featuring the Mad Hatter and other Wonderland friends from noon-2 p.m. Reservations are required. Cost is $25 per adult/child couple and $10 for each additional adult and child. Sponsors are Steve and Kelly Grube.
Closing out the Festival of Trees will be a beer and wine-tasting event, sponsored by City Beverage and Chief Supermarket.
The event will be from 5-8 p.m. Reservations are required and cost is $30 per person.
"We thank the community for keeping the Festival of Trees tradition alive," Draine said. "None of this would be possible without the support of our generous donors and volunteers. It is a vital component to our fundraising efforts, and monies raised during the festival enables our Y to provide membership assistance and programs to those in need."
Reservations for any of the events on Nov. 17 can be made by calling the YMCA at 419-784-4747.
https://ift.tt/2Ffo1ky