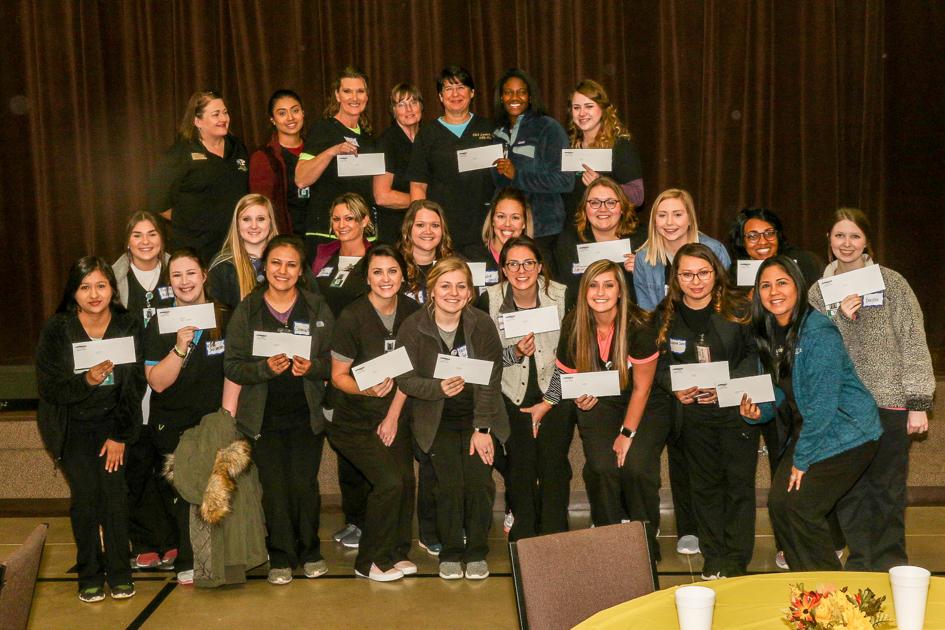 Longview Ambucs and Ambucs of East Texas, two local chapters of National Ambucs, combined to award $72,000 in scholarships to 36 physical and occupational therapy students at Kilgore College and Panola College on Nov. 15 at their annual scholarship luncheon.
Longview Ambucs has provided scholarships to local students at Kilgore College and Panola College since 1994. To date the organization has given away almost $600,000 to area therapy students.
"We think what these students are doing is noble," said Tommy Knight, scholarship chairman. "They are working so hard to make a difference in their lives and eventually to help make all our lives better by making people's bodies work. They are some truly remarkable people."
Ambucs' mission is to inspire people to conquer challenges related to mobility and independence through a nationwide network of volunteer chapters, working in partnership with physical, occupational and speech therapists; and by providing AmTryke adaptive trykes, scholarships for therapists and many forms of community service.
"We do a lot of things for the community, be it building wheelchair ramps for people on Saturdays or giving away AmTrykes, but my passion for this club has always been our scholarships," said James White, Longview Ambucs president. "It's a gift that gives for a long time to come."
The scholarship winners from Kilgore College are: Shay Massey, Dustin Long, Ancelmo Majarro, Krystalle Sikes, Colten Johnson, Tomiola Ogunkolade, Azure Berry, Brittany Brightwell, Christina Brister, Maty Reynolds, Amanda McAdams, Jaelyn Galley, Laura Coles and Kayla Canaguier.
The scholarship winners from Panola College are: Lacy Miles, Leah Montandon, Waldina Soto, Chrystal Rose Ann Carbojol, Amber Jones, Shikella Patton, Gloria Arellano, Graciela Villanueva, Chelsea Elliott, Rialie Taylor, Emily Smith, Caitlin Elliott, Baylee Daehn, Alricka Edwards, Daniella Cardoza, Kaitlyn George, Cheryl Mitchell, Lizbeth Munguia, Lorrie Neal, Alyssa Riddle, Elizabeth Holloway and Kailon Jackson.
Kailon Jackson won the Jack O' Diamonds scholarship while Christina Brister won the Citizens National Bank scholarship. Laura Coles was named the Bockmon, Knight & Traylor Insurance scholarship winner, and Chelsea Elliott was the winner of the Boss Crane & Rigging scholarship.
The Sara Catherine Shirley Memorial Scholarship was awarded to Lacy Miles, and Caitlin Elliott was named the winner of the Randy Rose Memorial Scholarship.
The scholarship luncheon was held at the Anchor at Winterfield United Methodist Church in Longview.
https://ift.tt/2Qhwj0c