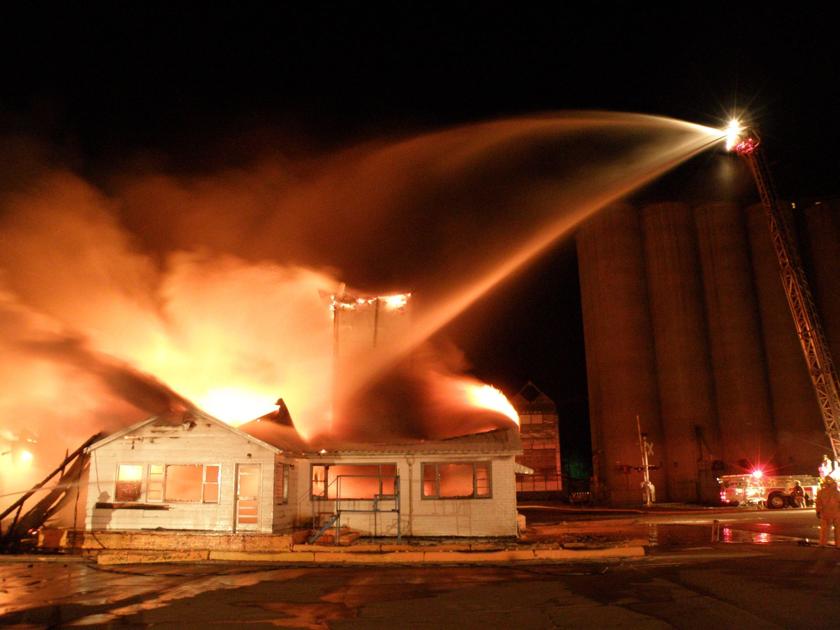 A look back at events and occurrences published in past editions of the Hemingford Ledger.
2008 TEN YEARS AGO
The wooden elevator... Which burned down in Hemingford last Thursday morning, has been part of Farmer's Co-op since 1981, though Co-op never used the elevator. According to the book "Old Time Grain Elevators," by Bruce and Barbara Selyem, the elevator was built in 1931 for Hemingford Grain & Oil Co. who sold it to William Hagemeister and his three sons – Lee, Dean and Bruce, in 1939. Bruce operated the elevator until 1975 before selling the facility to Cargill.
Obits: Raymond E. Rohrbouck age 85, Margaret G. Sandberg age 94, Albert Fredrick Seebohm age 82
1998 TWENTY YEARS AGO
Manion named Chairman; Hollinrake, Elder sworn in... The Hemingford Board of Trustees meeting started off with Chairman Rick Deans asking newly elected trustees Matha Hollinrake and Jem Elder to present themselves and read their oaths of office. Immediately following, Deans adjourned the meeting to allow himself and fellow trustee Sheron Dannar to step down, ending several terms in office between the two of them. Chairman pro-tem, Tom Manion then re-convened the meeting and was promptly elected as chairman for 1999 by unanimous vote. Jim Parkin was named vice-chairman.
Obits: Eva Schledewitz age 95, Lucille Meade Dyer age 75, Harold "Smokey" Jines age 64.
1988 THIRTY YEARS AGO
Christmas Cantata choir set to... Perform under the direction of Sue Shaver include (l-r) front—Bev Crownover, Sue Shaver, Sally Dyer, Lisa Haas; 2nd row—Shelly Smaha, Susie Cheeks, Sonja Shaver, Theresa Elliott, Brenda Rouse, Alice Danbom, Sheri Reyes, Jeanne Schmitt, Jac-Lyn Swanson, Carolee King; 3rd row; Marcia Wehtje, Opha Shaver, Geneice Atteberry, Donna Delsing, Bev Benda, Kathy Kincaid, Mary Hennings, Bev Hanks, Vicki Kotschwar, Karen and Sally Minich; back—Lyle Fodnes, Bob Haas, Doug Shaver, Casey Walker, Greg Elliott, Dave Darveau, Dan Smaha, Lee Messersmith, Bob Crownover, Harold Schmitt (not pictured –Rock Sumner and Brian Kuhn).
Obits: Mary Uhrig age 93, Clara Whelan age 89, Elizabeth Catherine Sherlock age 91, Deborah Davis Hartman age 38, Mary Shimek age 78.
1978 FORTY YEARS AGO
Explosion ripped through Legion Club... In Hemingford when a regulator broke on the gas line leading into the building at the alley. Club manager Bob Ray was in the building when the explosion occurred, was thrown from the door, but not injured. HVFD Fire Chief Bob Duncan was en-route to shut off the gas when the explosion occurred and arrived shortly afterwards with several trucks immediately dispatched. Resulting damage included the collapse of half the ceiling in the club area, one furnace caught fire, fire damage in the storeroom off the furnace area and smoke damage. No estimate has yet been given.
Obits: Nolen Caldwell age 56, Frank Dufek age 62,
1968 FIFTY YEARS AGO
One new and one a building here... There's a new business in town and another is starting some construction. The new firm is a satellite of the Roxy Theatre a large room opened off the theatre's concession area and dubbed the Roxy Den. Farmers Union Co-op Oil Assn. Tuesday began construction of a new oil and gasoline bulk plant.
Hinchley aboard ship that won 3rd honor... Boatswain's Mate Seaman, Dennis L. Hinchley, USN, 20, son of Mr. And Mrs. Hank Hinchley of Marsland and husband of the former Laura Yardley of Hemingford is serving aboard the attach aircraft carrier USS Ticonderoga, at Long Beach, CA. His ship has won its third Navy Unit Commendation. The award was for action during its fourth combat cruise with the Seventh Fleet off the coast of Vietnam.
1958 SIXTY YEARS AGO
Hemmed in at the Apex... Of this inverted "V" angle by the new Hemingford Chamber of Commerce directors is Pres. Allison Johnson, leading support, from left are Vice President, George Smith, Glenn Shetler, Wayne Shaver, Charles Fentress, Don Hansen and Lyle Speer.
Obits: Mrs. Elizabeth Tibbitts age 78,
1948 SEVENTY YEARS AGO
Safety Council Urges More Driver Control... The 1949 session of the Nebraska Legislature will be urged to strengthen the State's driver licensing laws. This recommendation came from the Third Annual Traffic Safety Conference held in Lincoln.
Police Court Reports Very Little "Business"... Intoxication is still the largest contributor to the coffers at the local police court. Though a considerable decline of cases is recorded for November from that of October, five of the nice sessions of court brought up intoxication charges.
Obits: Hannah E. Abbott age 77, Mrs. Wesley Furman age 33 years, 9 months, 28 days.
1938 EIGHTY YEARS AGO
Nebraska Women Carry Tax Fight to 29 Communities... Turning from household tasks to household taxes, women in 29 Nebraska communities have joined a crusade against "unnecessary taxes that increase the cost of living," the National Consumers Tax Commission announced today. Forming NCTC units, the women are seeking to inform the public about taxes and to combat "those taxes, particularly hidden ones, that do not return the community I proportion to what they take out," according to the announcement.
1928 NINETY YEARS AGO
Crawford Mill Burned Down... The Crawford mill burned to the ground Monday night with a loss estimated at more than $25,000.00 above the amount of insurance. Just how the fire started in unknown. D.J. Toomy, the owner had just completed this fall, improvements on the mill totaling about $15,000.
Farmers Bank Buys Citizens …. A great many people were greatly surprised to know that the Citizens National Bank is no more. It has been purchased by the Farmers Bank. Both banks are in the best financial condition, and it is not thru any weakness in either bank that the merger has taken place.
Obits: C.J. Peterson age 86.
1918 ONE HUNDRED YEARS AGO
Car of Potatoes to Omaha... The car load of potatoes, donated by Hemingford to the poor of Omaha, has been duly received. The potatoes were donated by people of this vicinity and consigned from Mayor Alex Muirhead of Hemingford to Mayor Ed. S. Smith of Omaha.
https://ift.tt/2GiYlnL