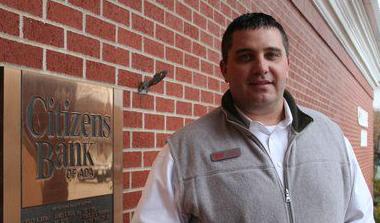 Jimmy Eppler, president and CEO of Citizens Bank of Ada, is pleased to announce the addition of Justin Graham as the human resources development specialist for Citizens Bank of Ada.
"Justin is well known through his community involvement in the Ada area," Eppler said. "We are pleased to have him working at Citizens Bank."
Graham is responsible for implementing new initiatives that will help streamline the onboarding process and recruit and retain quality employees.
"I would like to thank Mr. Eppler and the Board of Directors for this opportunity," Graham said. "I look forward to being a part of an organization that cares so deeply about their customers and community."
Graham is a graduate of East Central University, where he earned a degree in kinesiology with a minor in business administration. He currently serves as treasurer for Southern Oklahoma Sports Association and is a member of Ada Rotary Club. Prior to joining Citizens Bank, Graham served as assistant athletic director for academics and compliance at East Central University. He and his wife, Jami, have been married for 13 years. They have two children, Hagen, 11, and Kadi, 7. Graham enjoys spending time as a family and watching his children in their various activities.
Citizens Bank of Ada
Conveniently located in the heart of downtown Ada, Citizens Bank has been serving the local community for more than 50 years. Citizens is managed by a caring Board of Directors and dedicated officers who are proud to boast that this financial institution is "Locally Owned and Operated."
http://bit.ly/2RfFwXt