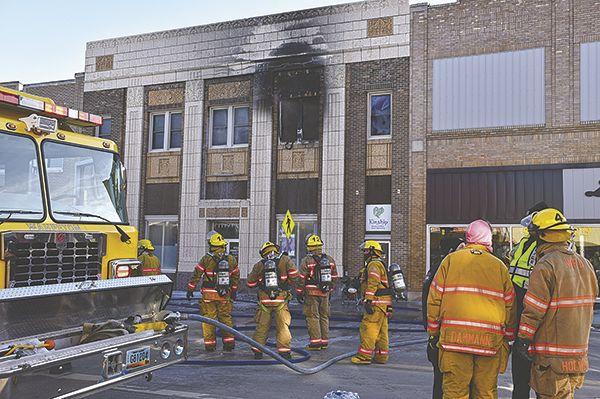 Wednesday's fire at 509 Dakota Ave., Wahpeton, is on the record as having an undetermined cause.
Fire Chief Dale Rubish confirmed the undetermined cause Thursday, Jan. 10. The fire marshal, Rubish, Richland County Emergency Manager Brett Lambrecht were at the downtown fire site.
A fire began in a second story apartment at 1:26 p.m. Wednesday, Jan. 9. The building has three apartments, not four as previously reported.
"Two families were displaced," Lambrecht said. "There was a mom and her two kids in the main apartment. Next door, there was another mom and her two kids."
The names of the displaced have not been released. They are receiving assistance from the American Red Cross and Salvation Army.
"One family is staying in a hotel, the other is staying with friends," Lambrecht said.
James Jawaski, who owns the building with his wife Kari, said two of the three apartments were occupied at the time of the fire. He's working on getting cleanup crews to the building.
"We had two tenants on the north end of the building," Jawaski said. "We're probably going to transfer one tenant to the back apartment that was vacant."
Because firefighters responded quickly, Lambrecht said, fire damage was limited to one of the apartments. That apartment is considered totaled.
"It's a total gut job," Jawaski added.
The neighboring apartment received moderate damage from smoke and water. Businesses on the second and first floors were affected by not only smoke and water, but debris.
"We are so thankful that no one got hurt and our records and computers are intact," said Rebekah Christensen, director of Richland-Wilkin Kinship. "Things can be replaced, but people can't."
Kinship is relocating to temporary space at Heritage Square, 500 Dakota Ave. in Wahpeton.
Three Rivers Crisis Center, located below Kinship, is relocating to "The House" on the property of Evergreen United Methodist Church, 1120 Evergreen Ct. in Wahpeton.
"Our 24-hour crisis line continues," assured Three Rivers Director Susan Rittenour. "Starting Monday, we'll be seeing clients at The House."
Wahpeton Fire Department, Breckenridge Fire Department, Wahpeton Police Department, Richland County Sheriff's Office, Ambulance Service Inc. and North Dakota State College of Science Police responded at the scene.
"I thought the response was phenomenal," Rittenour continued. "They moved very quickly and under the circumstances, did an excellent job."
Citizens National Bank, established in 1891, was the successor to the First National Bank of Wahpeton. The First National Bank was founded on Sept. 1, 1889.
In 1919, O.A. Leach was named bank president. During his term of office, the Citizens National building was constructed and opened.
The 1960s saw the opening of Citizens National's next bank building, located at 119 Sixth St. N. It is currently the site of Wells Fargo Bank.
The Jawaskis bought the Citizens National building 10 years ago.
During and following the fire, Twin Towns Area residents expressed their interest in providing for the displaced. Lucas Mayes, co-founder of Helping Out Wherever (H.O.W.) said he and his volunteers are working to figure out what's needed and how to get involved.
"Several people have called, wanting to donate," Rittenour said. "Because we didn't have an office this morning, we needed to get things in place first."
Three Rivers is expected to reach out through social media beginning Monday, Jan. 14.
"Thankfully for us, when the building is shut down, the mentors are still mentoring kids," Christensen continued. "Our sledding party for Monday is on. There are lots to be thankful for even in the hard times."
For photos and video taken during the fire, visit www.wahpetondaily
http://bit.ly/2SOnecF