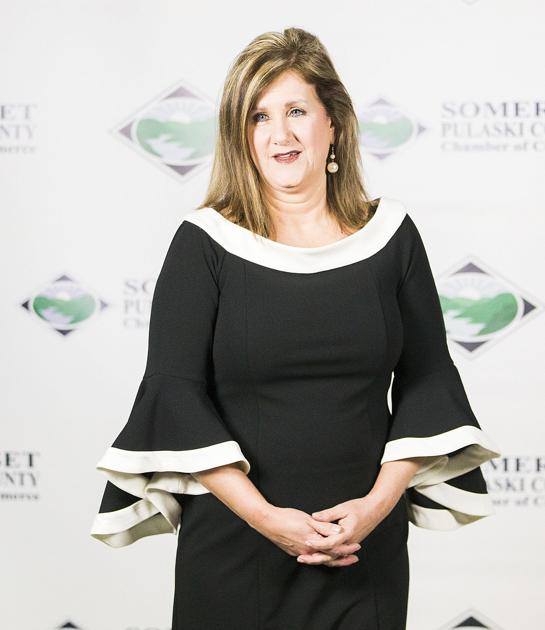 A woman with years of experience in managing businesses is the 2019 president of Somerset-Pulaski County Chamber of Commerce.
Linda Skaarup, executive assistant to Mike Whitaker, Eagle Realty & Development LLC, was presented the gavel, symbolic of chamber presidency, by outgoing president Daniel Cheshire during the January 8 chamber membership meeting. A two-term member of the Chamber of Commerce Board of Directors and two years on the Executive Committee, Skaarup was introduced in the top leadership position at the chamber's annual banquet Thursday night. The banquet, with about 750 in attendance, was at The Center for Rural Development.
Working at Eagle Realty and Development has allowed Skaarup to learn all aspects of the real estate business. She manages the office which currently handles residential sales and leasing; commercial sales and leasing, commercial development, warehouse services, and property management for people all over the world. She also manages Eagle Container and Trailer Rental with more than 500 units for lease.
Skaarup is a member of the National Association of Realtors and the Kentucky Association of Realtors. She served for many years as a director on Somerset Lake Cumberland Board of Realtors, and also as president. She is on several committees and formerly served on the Professional Standards Committee for the Kentucky Association of Realtors, and has been honored with Realtor of the Year award.
A member of the Citizens National Bank Economic Advisory Board in 2010, Skaarup currently is a member of the Advisory Board for Cumberland Valley National Bank. She is on the Police Advisory Committee for Somerset Police Department.
Skaarup is the past president of the Somerset-Pulaski County Rotary Club and was a member for more than 10 years. She served on the Rotary Club Board of Directors, and is a Paul Harris Fellow.
She received the Presidential Citation for the Rotary Club's many achievements during her presidency, and the Distinguished Service Award for her accomplishments and hard work as a Rotarian.
A volunteer at Over My Head homeless shelter and in the Project 58:10 ministry at High Street Baptist Church, Skaarup enjoys giving back to a community so good to her. She has been active in helping with organizations such as the Muscular Dystrophy Association, March of Dimes, American Cancer Society, Boy Scouts of America and American Red Cross.
Skaarup has been a resident of Pulaski County for more than 35 years. She is married to William "Nico" Skaarup and they reside in Somerset. Her son Ethan, his wife April and their son Bryn also live in Somerset. Daughter Taylor and husband Andrew live in Casey County. Taylor also has her real estate license and is an agent with Eagle Realty.
Accepting responsibility as chamber president, Skaarup thanked people in her life who assisted in making her career a success.
Members of the chamber's board of directors are: Linda Skaarup, president; Troy Lovell, first vice president; Matt Ford, second vice president; Daniel Cheshire, immediate past president; and board members Devin Reynolds, Delores Dalton, Martin Hatfield, Tiffany Finley, Willie Wilson, Jimmy Franklin, Terri Tuttle, Robert Parker, Alan Houck, Shawn Daugherty, Charlotte Keeney. Lisa Phelps, Hunt Prather, Laura Glover and Dr. Bruce Gover.
http://bit.ly/2QYeUFv